Booking.com7.6
Expedia.nl8.4
Google8.2
Located in the middle of De Veluwe and nearby Arnhem
When driving into De Veluwe you cannot escape the beautiful meadows and forests. The 4-star Fletcher Hotel-Restaurant De Buunderkamp is located in the middle of De Veluwe and close to the vibrant city Arnhem. The beautiful green environment is perfect for endless cycling and walking tours by yourself or with your family.
Child-friendly hotel
Surrounded by nature
Nearby the vibrant city Arnhem
Official wedding location
Fifteen multi-functional conference rooms
Can be combined with a day trip to Burgers' Zoo
Carefree stay
At Fletcher Hotel-Restaurant De Buunderkamp you are ensured of a carefree stay whether you decide to come alone, with your family or stay with us for business purposes. The hotel has 101 comfortable rooms, is surrounded by nature and has different wellness facilities for you to enjoy and relax.
After a day of exploring the beautiful nature you can join us in the à la carte restaurant of the hotel. For a drink and bite you can visit the bar and on sunny days we recommend our terrace. Planning to stay at our hotel for business purposes? Then you are also at the right address as the hotel has fifteen unique indoor and outdoor conference rooms.
Green surroundings
The green surroundings of Fletcher Hotel-Restaurant De Buunderkamp are ideal to completely unwind and explore fun activities. The nature reserve Het Nationale Park De Hoge Veluwe is a beautiful park where you will see forests, sand drifts and vast heaths. A visit to Burgers' Zoo is one of the visits we recommend or visit the vibrant city Arnhem.
Day out with an overnight stay
Combine your overnight stay with a visit to Burgers' Zoo. You can find the tickets including an overnight stay on the packages page.
Our team warmly welcomes you!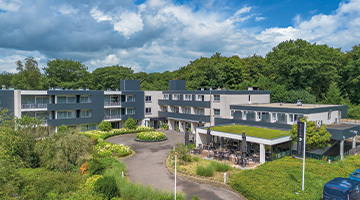 Enjoying Wolfheze
Hotel-Restaurant De Buunderkamp offer every facility that you need for a pleasant stay. There is a restaurant, bar and terrace. The hotel also offers e-bike hire and you can enjoy a range of wellness facilities.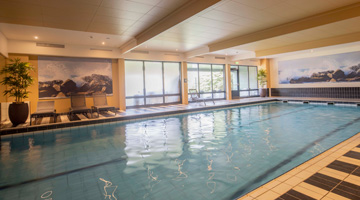 Photos & videos
Do you want to see what's in store for you before you stay at our hotel? View the photos and videos of our hotel here.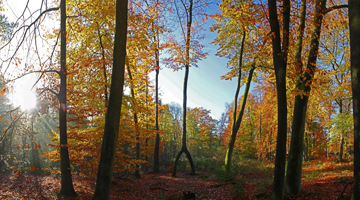 Explore the Veluwe
Upon entering the Veluwe, you will be struck by the beautiful vast meadows and forests. The area is ideal for completely unwinding. Hit the road for endless hikes and bike rides. The Veluwe has a lot to offer—the beautiful, natural environment also hosts several cities and small villages that are worth a visit.